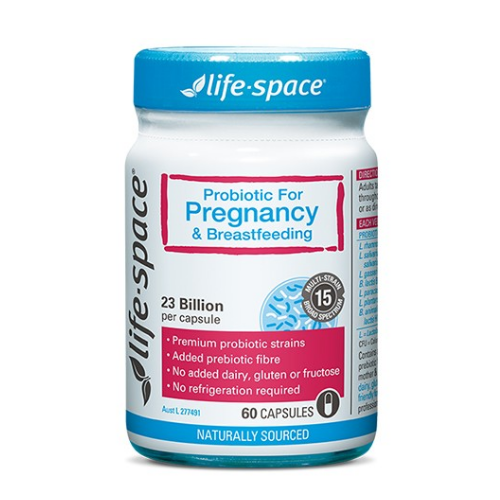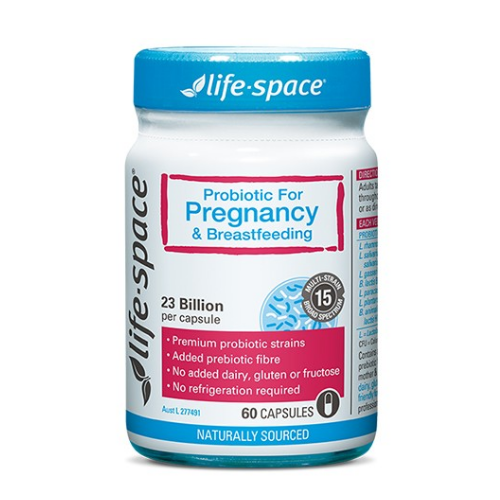 Life Space
Life Space Pregnancy & Breastfeeding Probiotic 60 Capsules
9331927003326
$ 184
Favourite
Notify Me

Life-Space Probiotic For Pregnancy & Breastfeeding is formulated based on scientific evidence and contains 15 different strains of premium quality beneficial bacteria and 23 billion live bacteria per capsule.
Life-Space Probiotic for Pregnancy & Breastfeeding contains probiotics Lactobacillus fermentum CECT5716 and Bifidobacterium breve CECT7263 which are both isolated from human breast milk.
Probiotics are live micro-organisms which, when administered in adequate amounts, confer a health benefit on the host.
Taking probiotics while pregnant may support overall digestive and immune health and may also help to reduce the risk of baby developing eczema in the first 2 years of life.
Life-Space Probiotic For Pregnancy & Breastfeeding contains Lactobacillus fermentum CECT 5716 which may help to relieve or reduce breast pain and discomfort associated with mastitis.
Life-Space Probiotic For Pregnancy and Breastfeeding is a vegetarian friendly formula that has no added dairy, gluten, yeast, egg, artificial colours and flavours, fructose or preservatives.
Physical description
Transparent vege-capsule filled with an off-white powder with the occasional red/brown or yellow coloured particles.
Directions
Take 1-2 vege capsules daily with water throughout pregnancy and while breastfeeding, or as directed by your healthcare professional.
Use at first signs of mastitis. When taking Life-Space Probiotic for Pregnancy & Breastfeeding for mastitis, take 3 capsules daily.
Most research shows that probiotics should be taken during and also 1-2 weeks post antibiotic therapy to assist in the restoration of the intestinal microflora and minimize the opportunity for antibiotic-related side effects. Probiotics may assist in maintaining healthy digestive flora following the use of antibiotics. We recommend that you take probiotics at least two hours before or after your antibiotic, to minimise the amount of good bacteria that may be killed by the antibiotic.