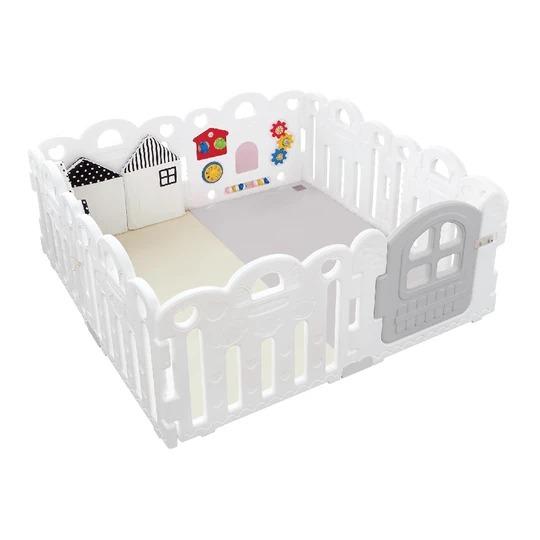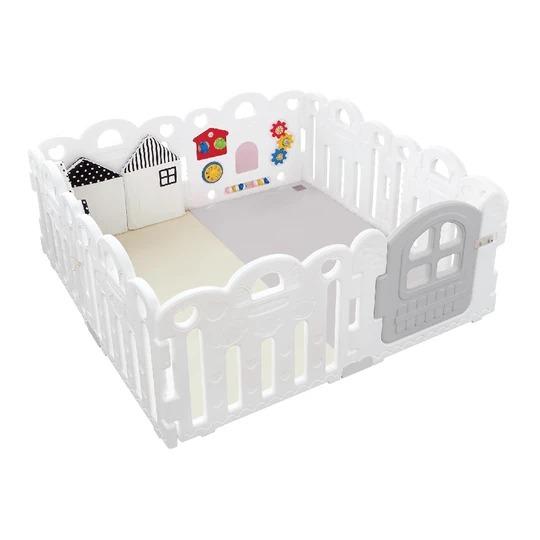 Haenim Toy
Haenim Toy Petit 8 Panels Baby Room - Pure White
HNP737-W4
Favourite
Add to Shopping Bag
Give your child a safe playzone at home with Haenim Petit Baby Room matching with Haenim Play Mat.
Petit Baby Room:
The Modern and artistic color, provide perfect combinations for interior in your house. It is easy to assemble with each wall interlocked without any additional connectors and features the round molded design for safety.
The fun activity wall including phones, gears, windows and spinning balls provides hours of fun. Kids will love talking on the phone and setting the gears in motion.
The Round molded design enhances safe play for kids and the lovely characters on the walls keep kids staying inside. Double door lock system does not allow kids to open the door from inside. All the corners are designed to round molded end for safety.
The square rubber pads are helpful to minimize the slipping of the walls. The Petit baby room can be extended by adding each basic walls (Purchase seperately). The activity wall will stimulate curiosity while enhancing concentration.
Various shapes can be made with different combination of walls. Quick and easy to set-up and to disassemble for compact storage and portability
Product Size: External - Approx. 57.9" X 57.9" X 23.6" / 147 X 147 X 60 cm (+/- 1 cm)
Internal - Approx. 55.1 X 55.1 X 23.6" / 140 X 140 X 60 cm (+/- 1 cm)
Made In Korea
Material: PE/PP
Age: Over 6 Months
Petit Play Mat:
The dual-sided colors (Pink + Beige / Grey + Beige) allow you to match with your Petit Baby Room or your style.
- Made of safe, non-toxic PE material
- Zipper are internally hidden to prevent from child opening by an accident
- Absorb unwanted noise between floors with a 4 cm thick PE foam material
- It is water-proof. You can simply wipe it with tissue or damp cloth
Made In Korea
Product Size: Approx. L55.1" X W55.1" X T1.6" / L140 X W140 X T4cm (+/- 1cm)
Material: PU/PE
Age : Over 0 months