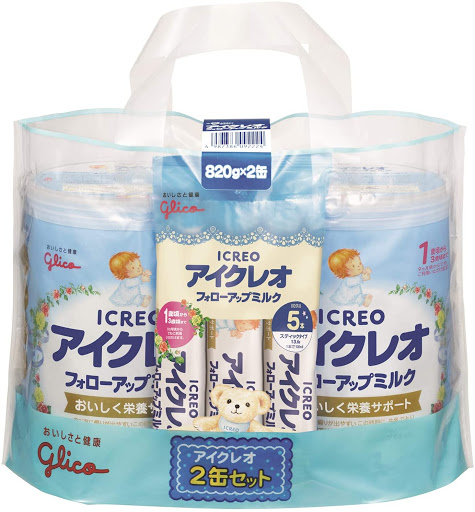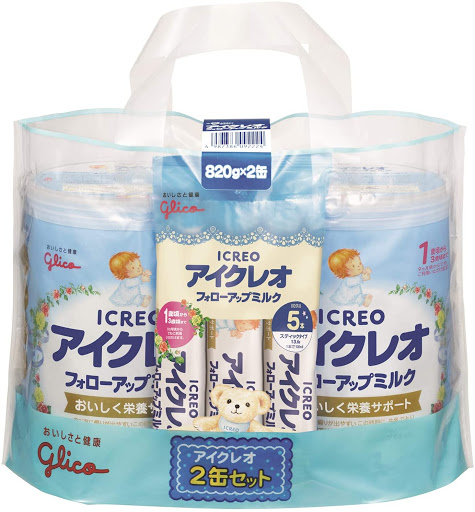 Glico
【New Arrival】
Glico Icreo Follow-up milk 2 cans set
4987386092224
$ 428
Favourite
Add to Shopping Bag
Product features
We can supplement nutrition including calcium which is hard to take well-balanced.
● Iron indispensable for the period of growing up is blended in an appropriate balance with vitamin C, making it easy to absorb and use.
● Contains enough vitamin D to promote calcium absorption.
● Equipped with a simple cap that can be opened and closed with one hand.
Ingredients / Ingredients, etc.
Skim milk powder, lactose, modified edible oil (fractionated lard, oleo oil, soybean oil, coconut oil, palm olein), starch breakdown products, protein concentrated whey powder,Galactooligosaccharide, sesame oil, salt / calcium carbonate, lecithin, magnesium chloride, calcium hydroxide, tricalcium phosphate, vitamin C, ferric pyrophosphate, 5'-cytidylic acid, nicotinamide, vitamin E, calcium pantothenate5'-sodium uridylate, 5'-adenylic acid, 5'-sodium inosinate, 5'-sodium guanylate, vitamin A, vitamin B6, vitamin B1, folic acid, vitamin B2, β-carotene, biotin, vitamin D3, Vitamin B12 (partially contains milk and soybean)
[Nutrition]
(per 100g)
DLugie (KcaL) ... 484
Protein (g) ... 15.5
Lipid (g) ... 21.7
Carbohydrate (g) ... 56.8
Ash (g) ... 3.5
Moisture (g) ... 2.5
V.A (μg) 490
V.B1 (mg) 0.7
V.B2 (mg) ... 0.8
VB6 (mg) ... 0.7
V.B12 ... 1.3
V.C (mg) 74
V.D (μg) 6.5
V.E (mg) ... 6.5
Niacin (mg) ... 7.7
Folic acid (μg) ... 130
Pantothenic acid (mg) ... 3.9
> β-carotene (μg) ・ ・ ・ 90
Linolic acid (g) ・ ・ ・ 2.3
α-linolenic acid (g) ・ ・ ・ 0.45
Galacto-oligosaccharide (g).. 0.3
nucleotide (mg) ... 21
calcium (mg) ... 640
phosphorus (mg) ... 350
Na (mg) ... 200 <
potassium (mg) 625
chlorine (mg) 470
magnesium (mg) 50
iron (mg) 8.3
> Usage and dosage
[How to eat]
-Please see the table of the lid for the usage fee.
-The amount of milk you drink may vary depending on your baby food intake and individual babies.
・ Please formulate once, do not give any leftovers, please throw away.
-Please drink the prepared milk within 2 hours.
-Feeding milk that has not been cooled sufficiently may cause the baby to burn.
-Please be sure to cool down to body temperature before drinking.(The inside of the baby bottle may be cold, but the inside milk may be hot.)
How to use
-After opening the can, close the lid tightly to prevent moisture, insects, hair, etc. from entering.Store in a cool, dry place away from direct sunlight and use up within a month.
-Please store the special spoon hygienically separately from the can.
・ Do not store in a refrigerator or freezer because the powder may be wet.
-Please do not heat in the microwave.
-Please consult with a doctor, pharmacist, midwife, public health nurse, nurse, administrative dietitian or nutritionist depending on your baby's physical condition and health.
Precautions for handling
Store in a dry and cool place.